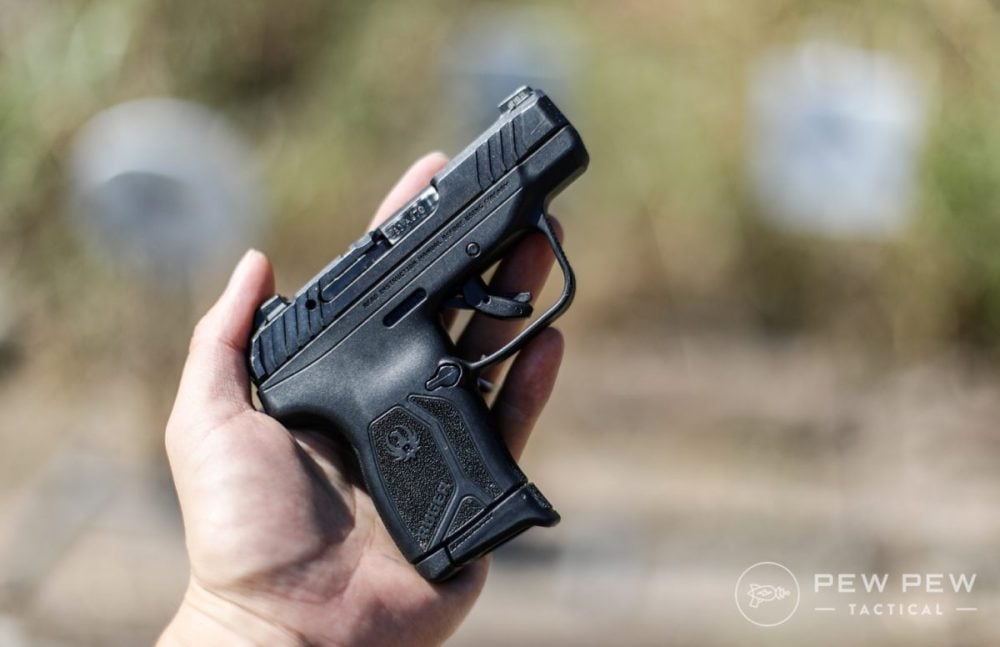 Is a .380 ACP pistol a good concealed carry gun?
These pocket pistols are sometimes looked down upon in the concealed carry community for being underpowered and under-capacity.
But we here at Pew Pew Tactical believe that anything you carry is better than nothing. That said, there are .380 pistols that are better than others.
Whether they offer a bit more capacity-wise or come stocked with features you want in a carry gun, we've gathered the best of the best to help you if you're in the market for a good .380 ACP pistol for concealed carry.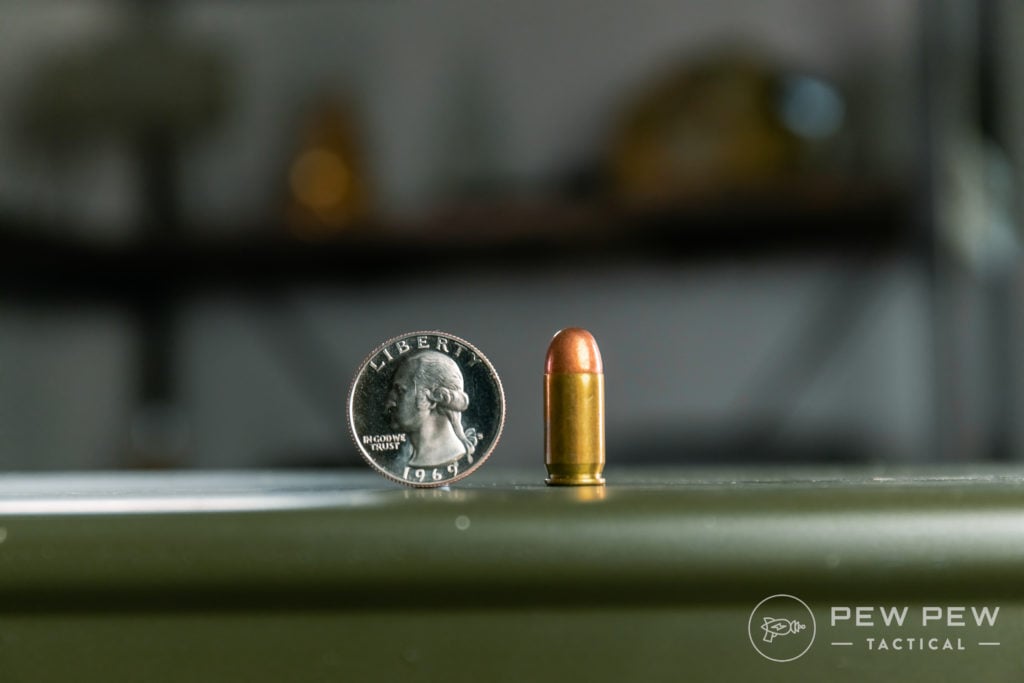 So, hang out with us as we dive into the .380 ACP round, talk about what it can and can't do, then give you the best models to choose from.
Summary of Our Top Picks
Table of Contents
Loading…
Why You Should Trust Us
Like anything in life, you want to make sure you're getting the best information from a reliable source.
Aside from our editorial team having a combined 30+ years of experience with guns, I myself am a pistol gal with 15 years behind my favorite guns. I'm an NRA-certified pistol instructor and previously taught basic handgun and concealed carry classes.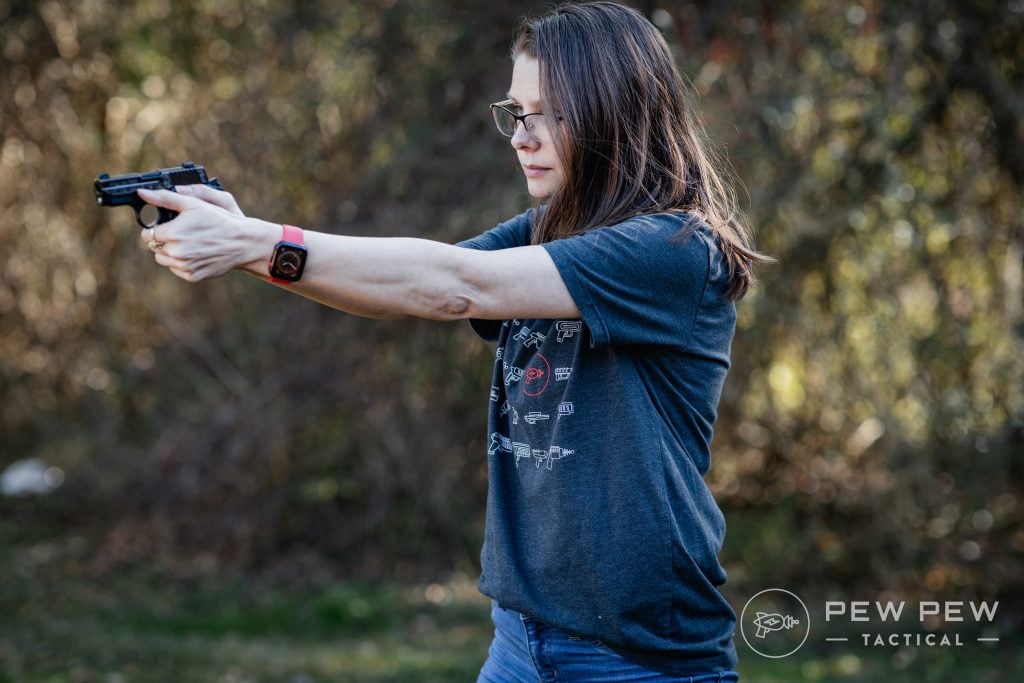 Additionally, I've worked in the gun industry as a reviewer, journalist, and editor for almost a decade, testing new guns and gear. I spend a lot of time researching and analyzing the best products and testing them at the range.
With that, let's get into my top recommendations divided by price!
Best Higher-End .380 ACP Pistols
1. Sig Sauer P238
While the P238 may not be the most modern .380 on this list, it's hands-down my favorite.
From the way it feels to its looks, the P238 has a lot going on for it. While aesthetics certainly take a backseat to functionality, you can't argue with a good-looking gun.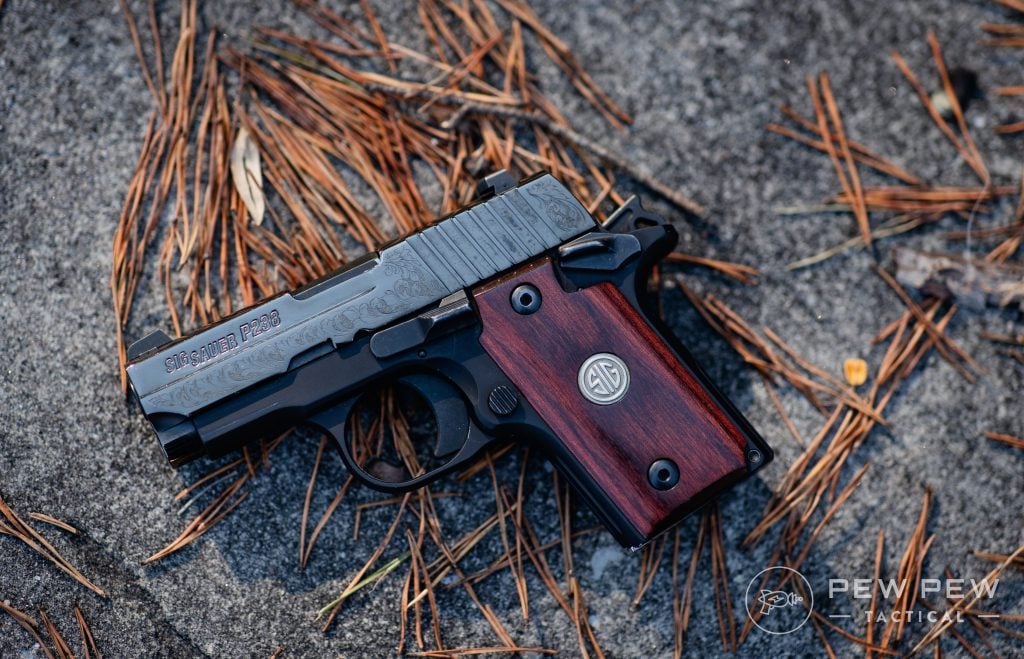 It features an all-metal design which lends some weight to it. Unlike the LCP Max, it packs on some pounds…err, ounces, tipping the scale at 15.2 oz. Yes, that's heavier, but that extra weight works wonders at the range.
Unlike the LCP series, which is a pain to plink with, the P238 is very comfortable to shoot and not quite as snappy.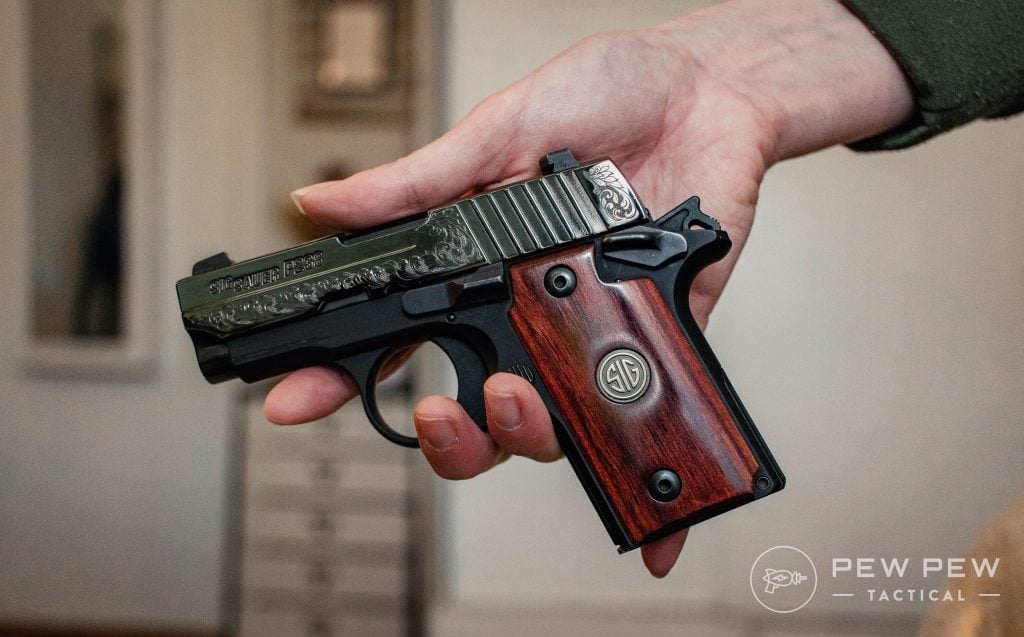 Its barrel measures 2.7 inches while its overall length sits at 5.5 inches, and capacity is 6+1.
This is my backup gun of choice and the one I carry when I can't make my usual EDC (a Shadow Systems MR920) work. It easily slips under clothes and basically disappears.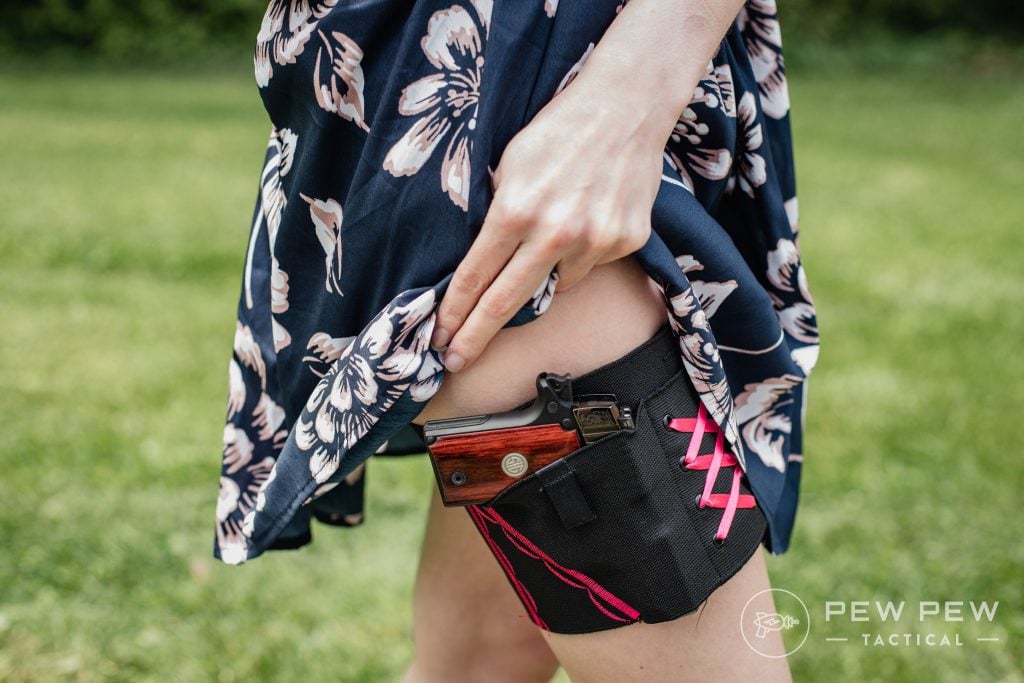 So, what's the downside? This isn't the easiest model to take down. You could damage the gun if you take it apart the wrong way or forget to move the ejector upon reassembly. I would look elsewhere if you want something quick and easy to clean and maintain.
Also, this isn't the cheapest model on the list…in a lot of places it can top $500 depending on what model you get. But, I dig the looks and performance so that price tag was worth it to me.
Best High-End .380
618
at GrabAGun
Prices accurate at time of writing
Prices accurate at time of writing
I go over more details, features, and personal experience with the P238 in my review!
Best Mid-Tier .380 ACP Pistols
2. Ruger LCP Max
Ruger's LCP line has long been a staple in the .380 community. This series started with the small and compact LCP, grew to the LCP II, and now houses the LCP Max.
I personally carried the OG LCP for many years, and it served me well. Now, PPT founder Eric carries the LCP Max when wearing athletic gear.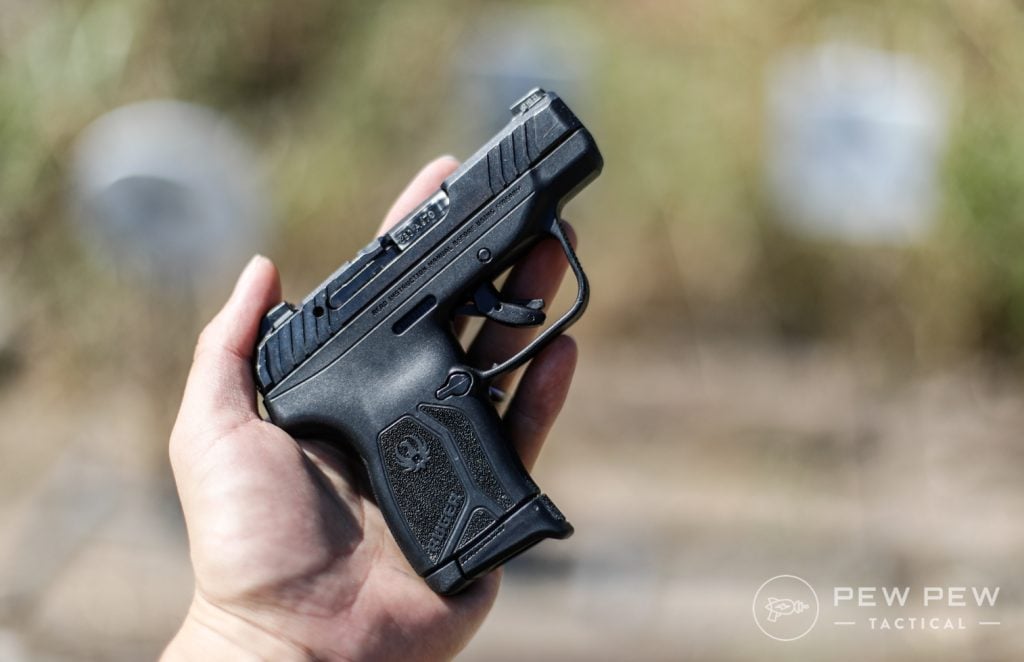 The LCP Max offers a more updated take on the LCP series with 10+1 rounds of .380 ACP. This is all while being super compact and lightweight (10.6 oz unloaded.) In comparison, the Sig Sauer P365 weighs in at 17.8 oz unloaded.
So, if you're looking for lightweight, look no further than the LCP Max.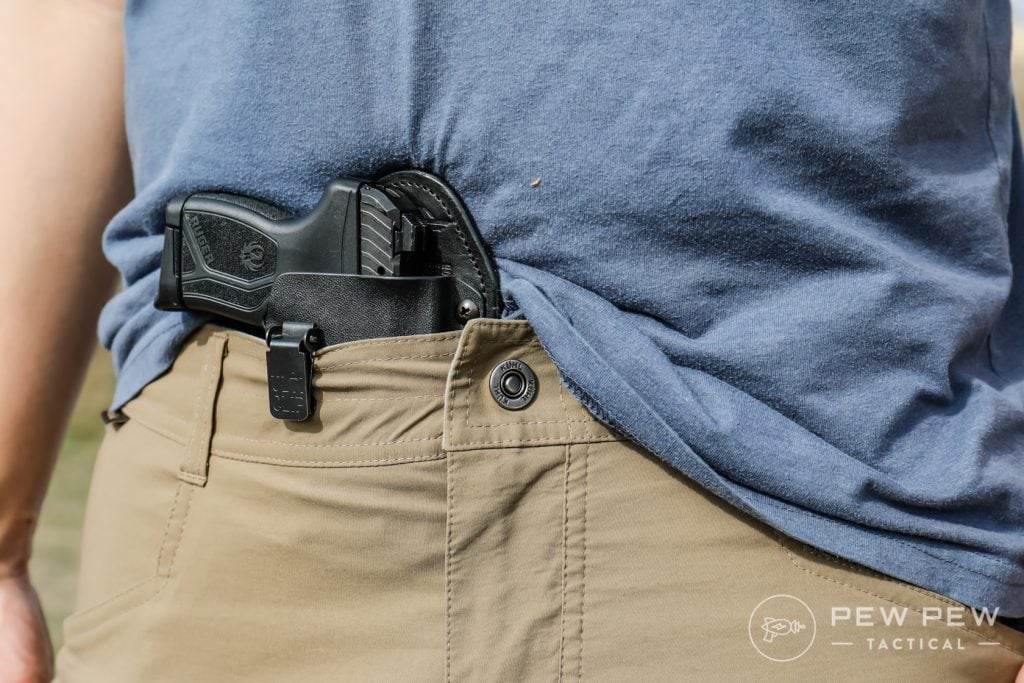 It measures a total of 5.17 inches in length with a barrel length of 2.80 inches – keeping to that small theme.
But wait…we'd be remiss if we didn't mention that lightweight build comes at a cost. This gun is snappy…much like its LCP siblings. Shooting it at the range is not fun, and I don't recommend it for plinking.
If a lightweight concealable gun is your goal, the LCP Max will certainly fit the bill.
Also worth noting, the LCP Max does great with brass and self-defense ammo, but it HATES steel-cased ammo. So, when stocking up on ammo, keep that in mind.
339
at Kygunco
Prices accurate at time of writing
Prices accurate at time of writing
We have a full review of the LCP Max and even a breakdown video to help you field strip it!
3. Smith & Wesson M&P Shield .380 EZ
If hand strength is an issue or an injury impacts your grip, I recommend the Smith & Wesson Shield EZ in .380 ACP.
The EZ model does come in 9mm for those that want it, but the .380 ACT shines for me in this series. It measures 6.7 inches in length with a 3.68-inch barrel and weight of 18.3 oz. Capacity is a worthy 8+1.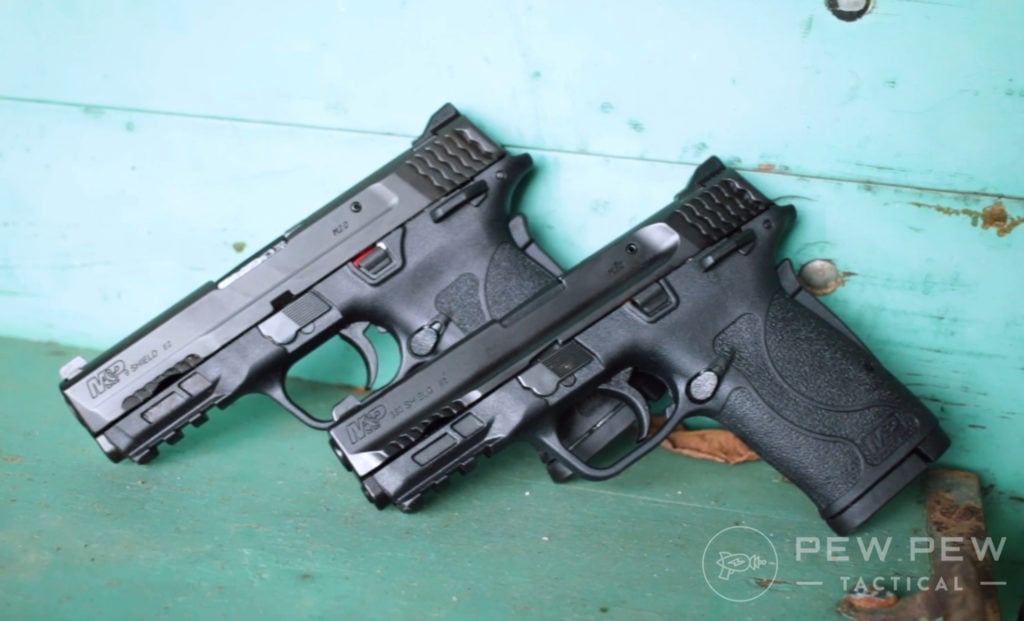 Namely, because it is super easy to shoot – from racking to firing, Smith & Wesson has brought a design that is beginner and disability friendly.
My mother has some pretty bad arthritis in her hands and a nerve injury that reduced her grip strength. It's very difficult, if not impossible, for her to rack most modern handguns. So, of course, I put this one in her hands when I tested it to see what she could do.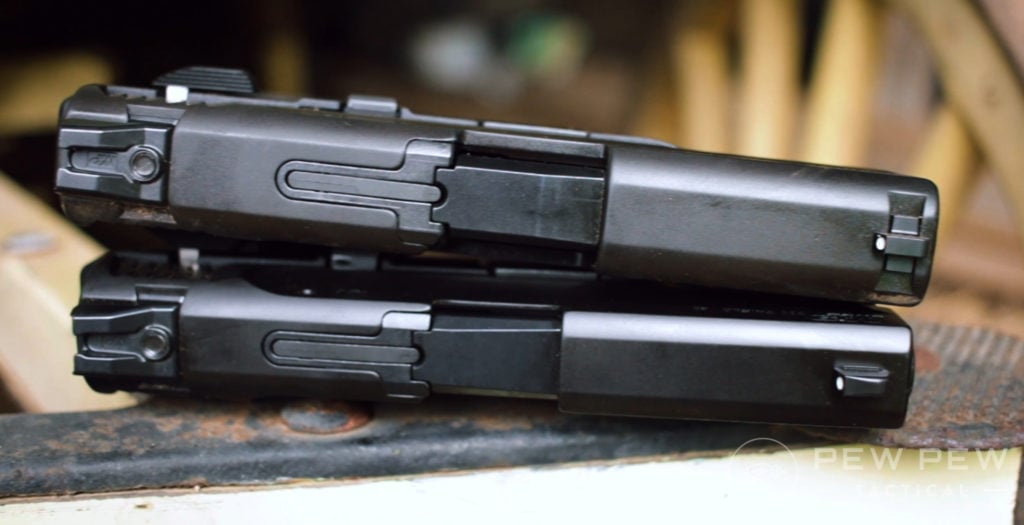 She had no issues manipulating the slide and said if she was going to buy a gun, this would be the one she'd choose.
Aside from easy racking, the pistol seems designed for smaller hands with a thinner grip than some other options on this list. If you are of the petite persuasion, this would be a good gun to look into.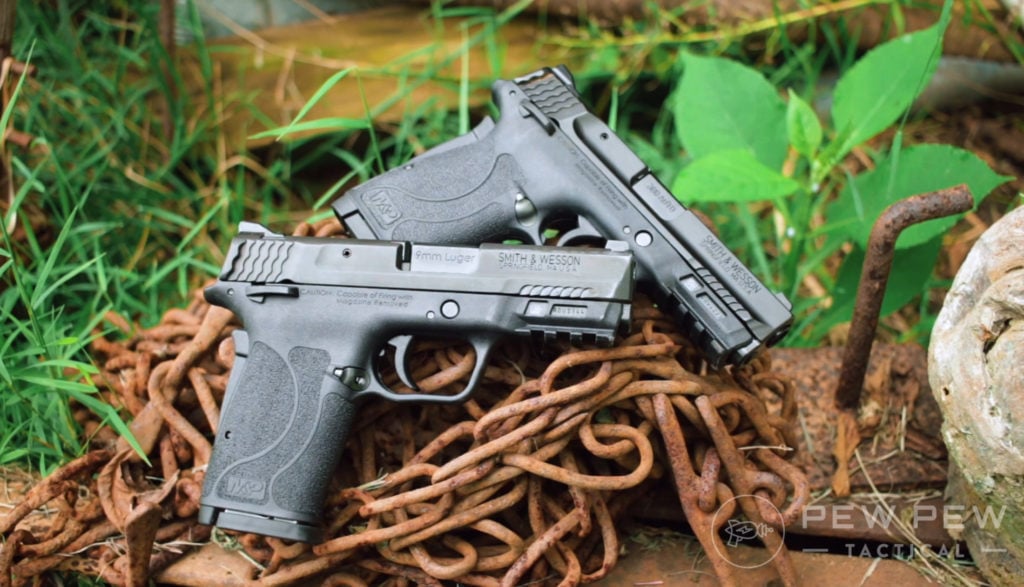 S&W offers two models under the .380 banner – a thumb safety version and one without (though both come with a grip safety.) Again, I like the inclusive approach to this pistol offering two designs of the same function.
I would like towards the EZ series if you want something that is…dare we say, easy.
4. Sig Sauer P365-380
A more recent addition to the .380 world comes from Sig Sauer in the form of the P365-380.
This version is built on the company's popular P365 platform and offers a more modern take on the .380 pistol.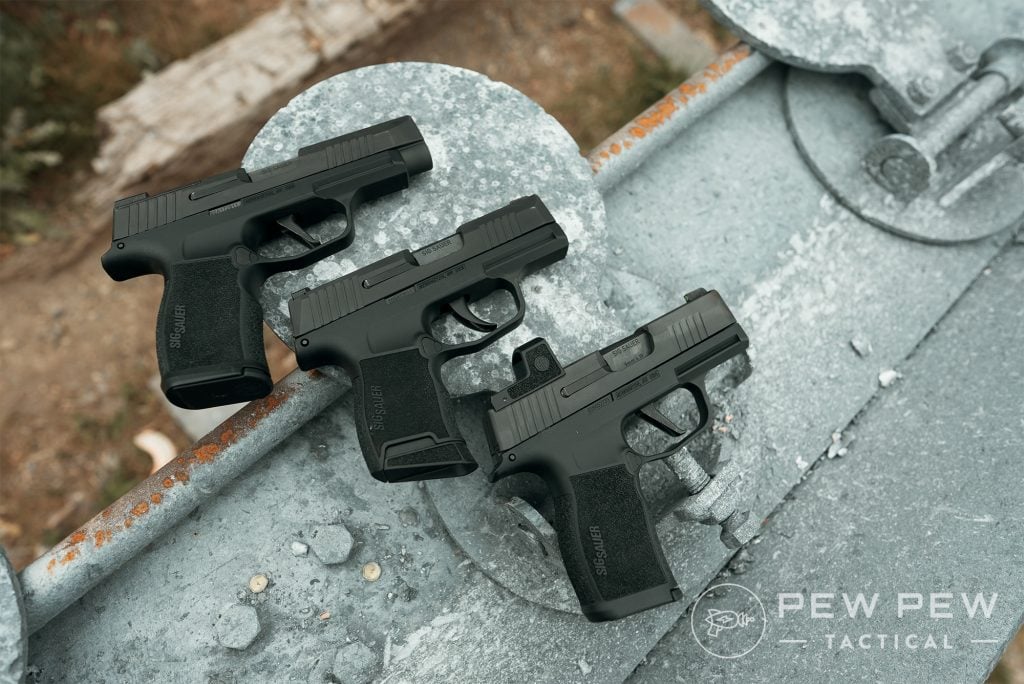 Capacity sits at a very capable 10+1 with an overall length of 5.8 inches and barrel length of 3.1 inches.
This gun comes equipped with SIGLITE Night Sights, which I think are a pretty nice upgrade over most companies' stock sights.
Even better, if rose gold is your vibe, the company just launched the P365-380 Rose in partnership with Team Sig competition shooter Lena Miculek.
I can always appreciate some variety in colors and offerings, so this was a nice upgrade to the series.
We are big fans of the 9mm P365, so it's no surprise its smaller cousin made our list. The P365 is a very nice ergonomic pistol that is comfortable to shoot. Not to mention, it's optics-ready, so you can throw on your favorite red dot.
Best Optics Ready .380
499
at GrabAGun
Prices accurate at time of writing
Prices accurate at time of writing
Overall, I recommend the Sig P65-380 for its increased capacity and comfort.
Best Budget-Friendly .380 ACP Pistols
5. Bersa Thunder & Firestorm .380
If you're on a budget and need a decent gun without breaking the bank, the Bersa Thunder .380 is an excellent option.
My father carried this gun for years…years…and it is still kicking. The Thunder .380 offers a barrel length of 3.5 inches with an overall length of 6.6 inches. It weighs 20 oz, making it one of the heavier options on this list.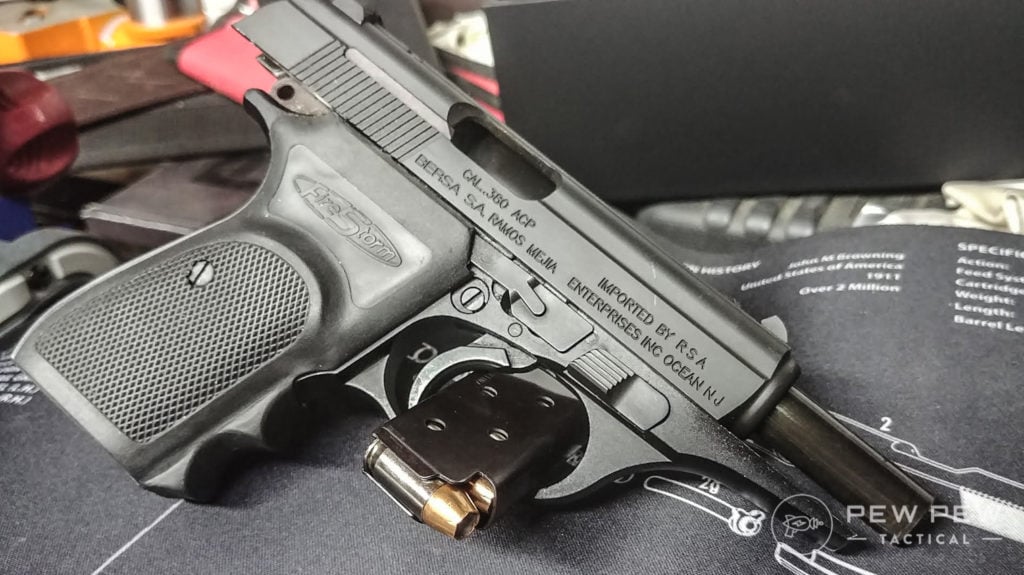 That said, I still found it snappy…like a super sore wrist the next day, snappy. Don't think I will plink at the range with this one, but your mileage may vary.
For me, the ergonomics were okay but not great — but, again, my dad carried this forever and loved it. So, like most things, ergonomically speaking, it will depend on you.
This model has a capacity of 8+1, which is pretty good for a .380 that balances concealability.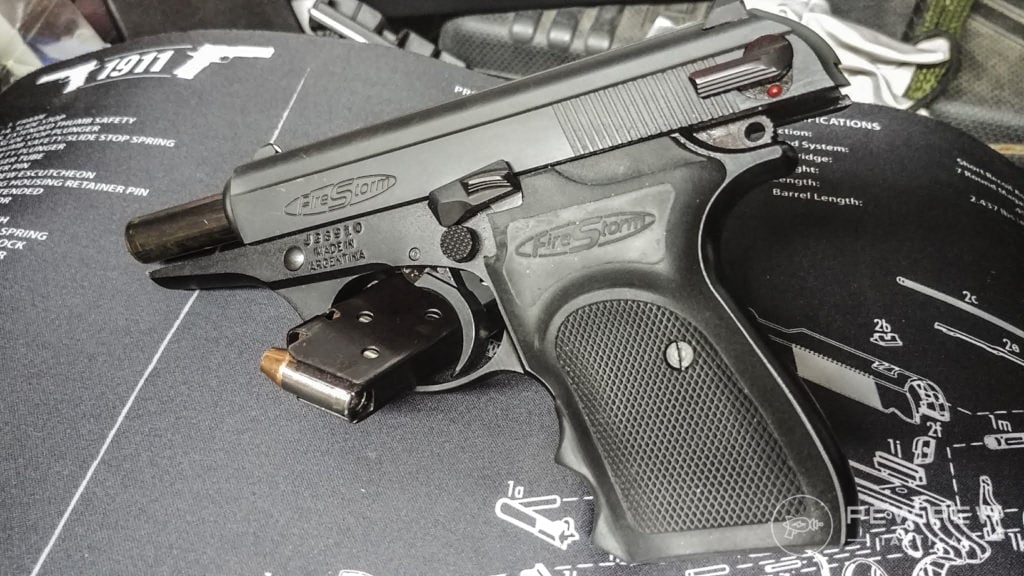 The Thunder does have a sibling called the Firestorm, which is very similar aside from a few upgrades – most notably, finger grooves on the grip, oversized rubber grips, and a rounded trigger guard.
Bersa's Thunder model, on the other hand, has a scalloped and serrated trigger guard. I would opt for the Firestorm if you prefer a little more to your grip area.
Overall, if budget is a concern, the Bersa Thunder (or Firestorm, for that matter) scratches that itch while still being a reliable option for CCW.
Best Budget .380
275
at Kygunco
Prices accurate at time of writing
Prices accurate at time of writing
Read more at our review!
6. Glock 42
Glock has a reputation for reliability, and the Glock 42 is no exception.
This .380 ACP model builds on Glock's successful and dependable design. If you use a full-size Glock anywhere else in your life, this model will feel very familiar…just in a smaller package.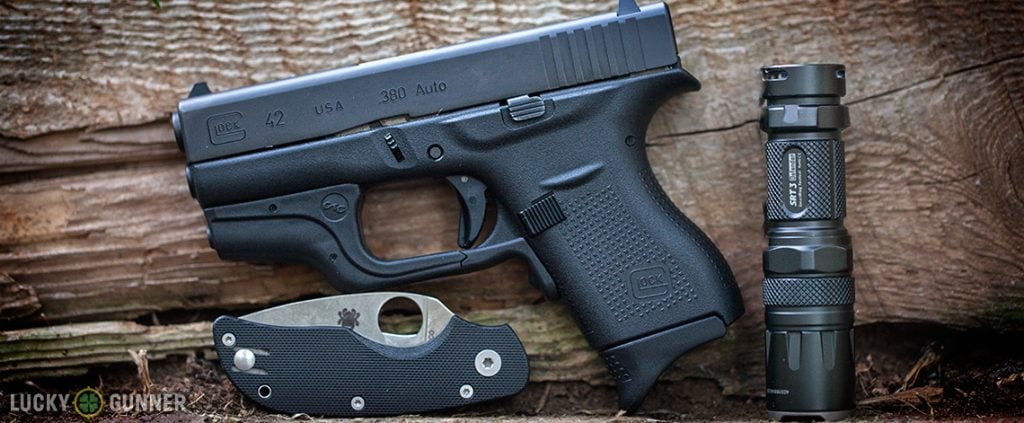 It sports a 3.25-inch barrel with an overall length of 5.94 and a weight of 13.76 oz. The Glock 42 is a polymer-framed gun with a capacity of 6+1.
Stock sights on the Glock aren't the best, but when you go Glock, you get a huge aftermarket. That means you can make small accessory adjustments as needed.
The Glock 42 is very comfortable to shoot, though a tad snappy. I find it easier to take to the range that some other models on this list, but it still wears me out after a few magazines.
Best Polymer .380
399
at GrabAGun
Prices accurate at time of writing
Prices accurate at time of writing
Takedown is fairly easy, though I tend to gripe about the required trigger pull to takedown. Is it a dealbreaker – no. But you want to ensure it's unloaded before you take down. (But that goes for any pistol you intend to clean.)
Overall, the Glock is best for people who want a no-muss, no-fuss pistol that will make the transition to bigger guns like the Glock 17 and Glock 19 easier.
What's your take on the Glock 42? Rate it below!
7. Kahr CW380
Kahr isn't a brand you hear too much from, but that doesn't mean they don't have options.
The CW380 is Kahr's take on the .380 ACP round, and it comes with a smooth trigger and decent sights. Weighing in at just over 10 ounces, it keeps that weight down to deliver a concealable pistol.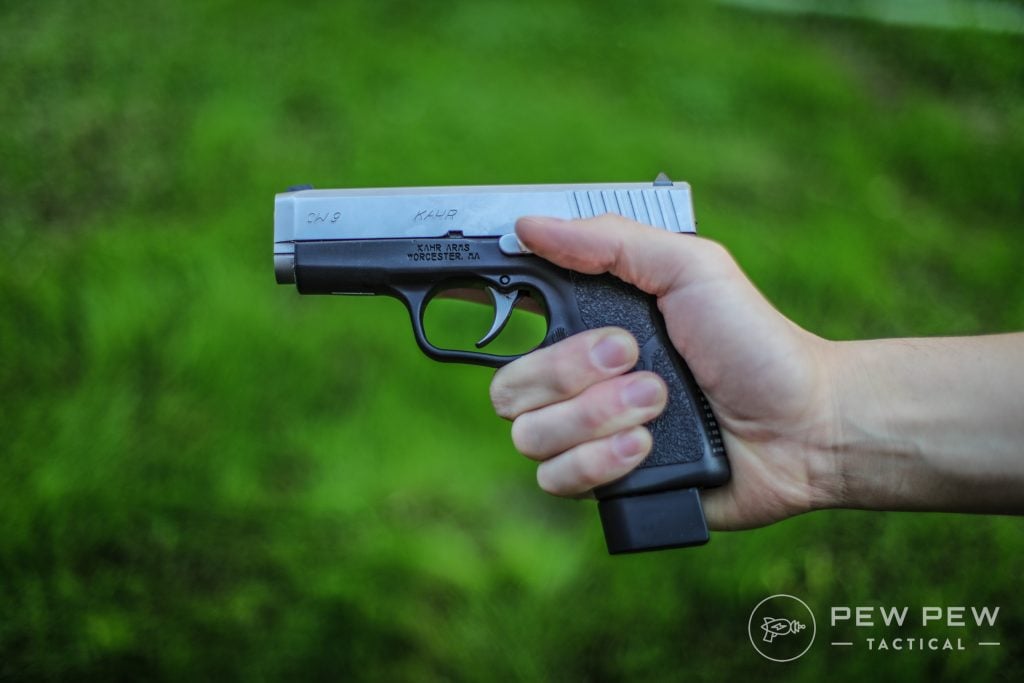 This gun is similar to the CW9, its 9mm sibling, but makes things a little smaller to meet that ultra-concealable need. Barrel length measures 2.5 inches, with its overall length at 4.96 inches.
I've found the Kahr CW380 to be a pretty comfortable handgun to hold. Its ergonomics are decent, and for a small pistol, it's manageable.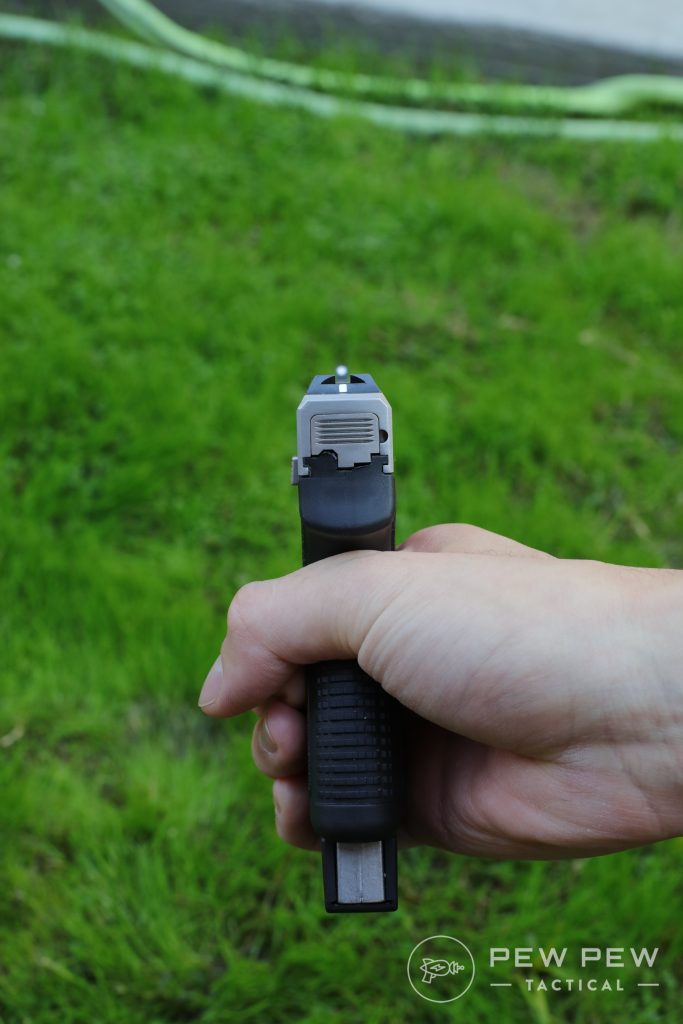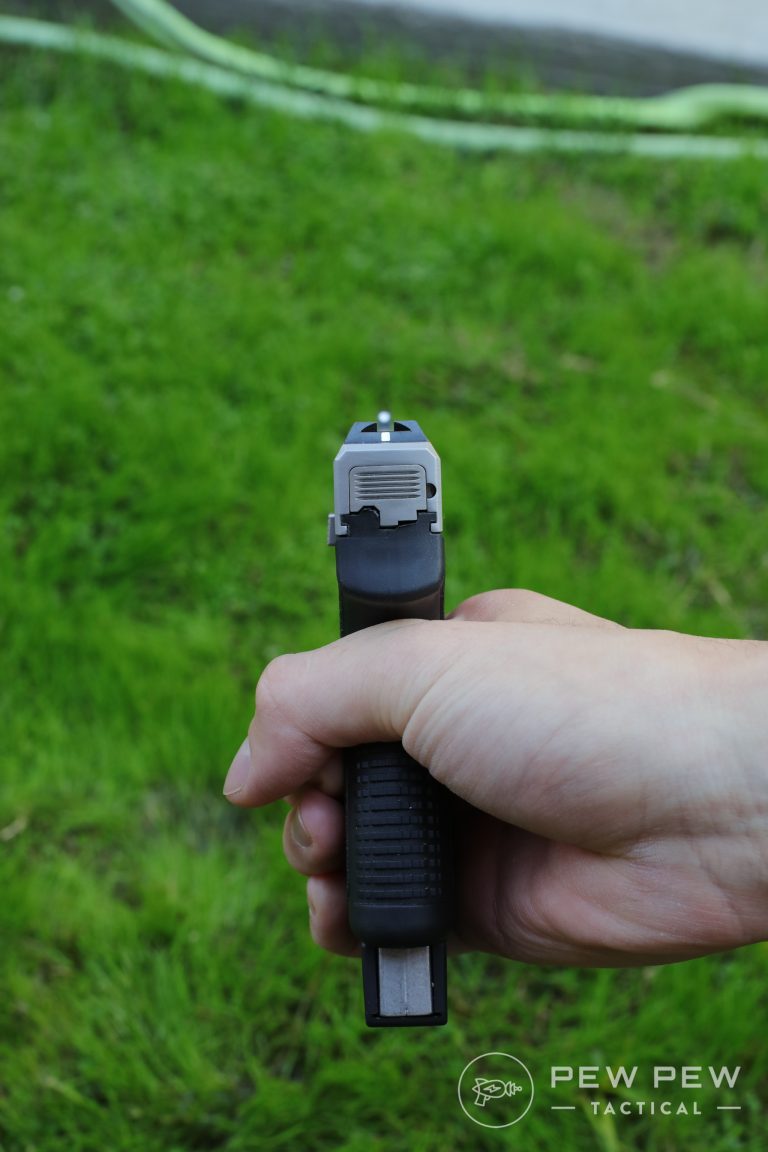 Again, you can expect some snappy recoil, but that's the song we sing about small guns.
Ammo-wise, it can be rather picky, and you may have to play around with a variety to dial in what works with your gun. In testing, we found that the cheap ball ammo did best, hollow points were iffy, and steel-cased was a no-go.
347
at GrabAGun
Prices accurate at time of writing
Prices accurate at time of writing
While we don't have a dedicated review for the CW380, we do go over the CW9, which is similar enough to get the point.
Is .380 ACP A Good Round for Concealed Carry?
That's kind of a loaded question (pun intended). Nearly anything is "good" if you put in the right training and time to learn its quirks and limitations.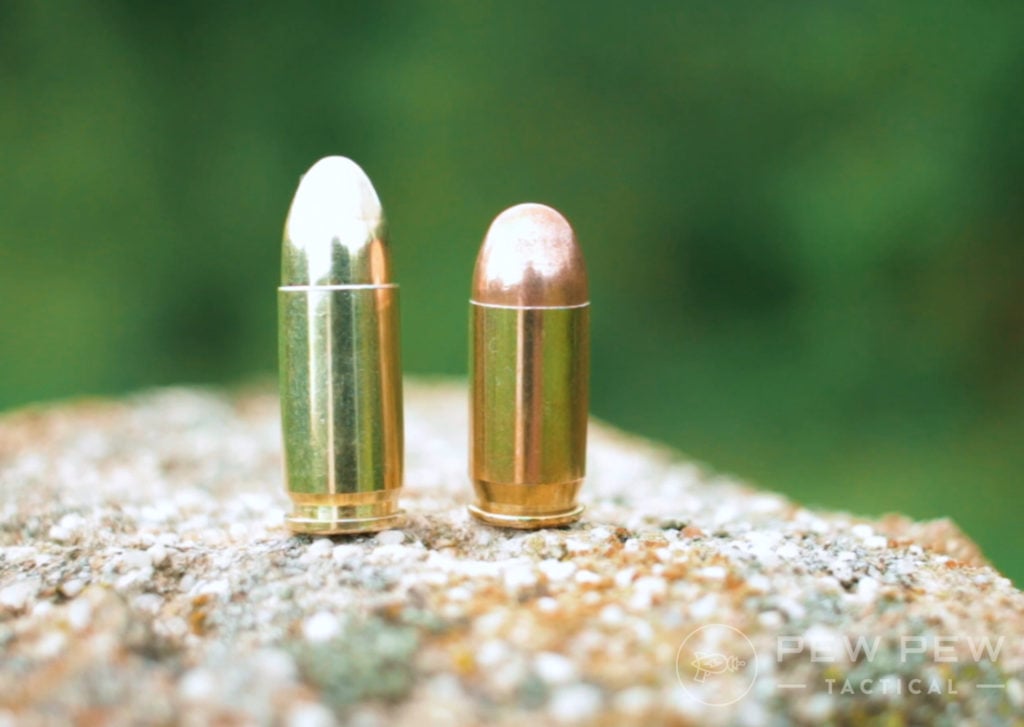 While some in the gun world feel like anything under 9mm is not concealed carry friendly, we're of the mindset that you should carry anything that you feel confident and comfortable with. If that's .380 ACP, then so be it.
Like any round or gun, take some classes, get familiar with your firearm, and stay up to date on your training.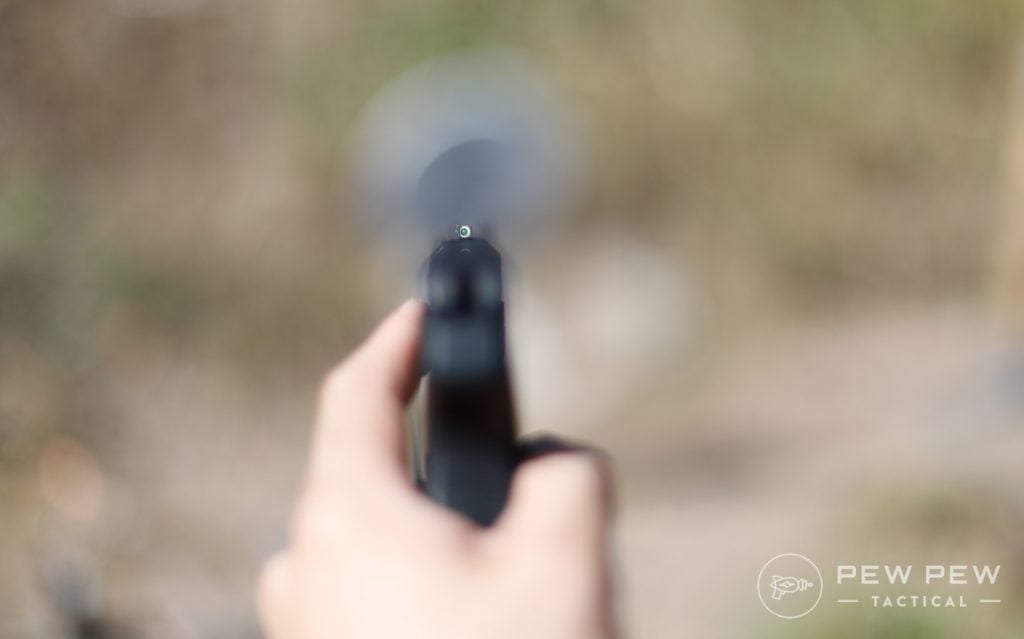 Put in the time at the range to feel confident and, most importantly, perform well should you ever need to use your carry gun.  
For more on this, head to .380 ACP vs. 9mm.
Final Thoughts
Our list definitely doesn't cover every .380 ACP on the market, but based on our experience, these are some of our favorites.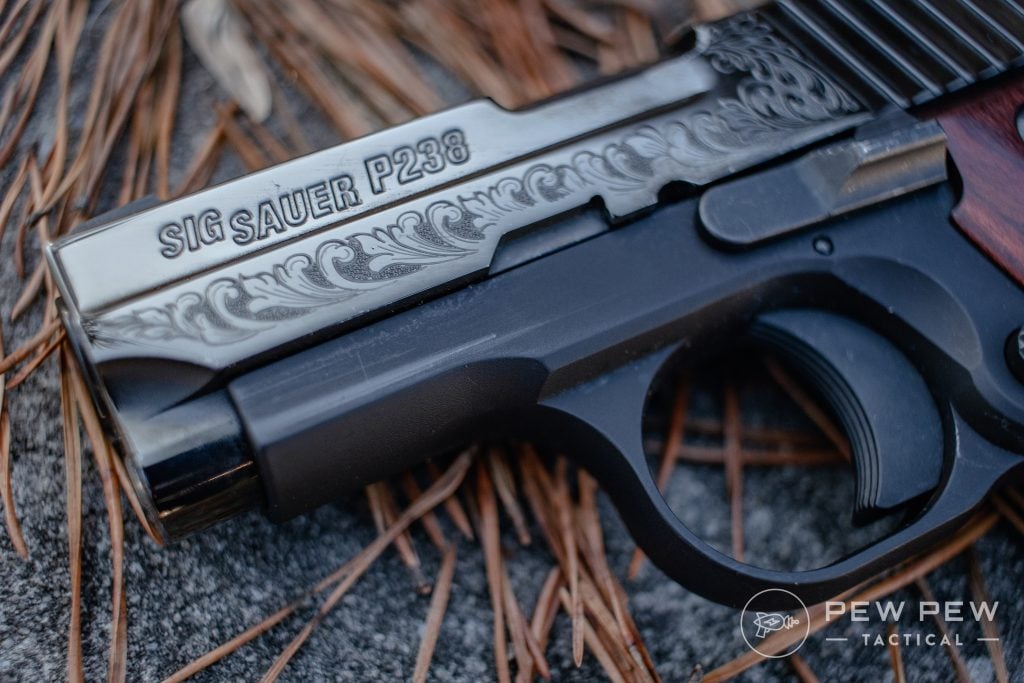 My personal .380 carry gun is the Sig Sauer P238 but other PPT staff members prefer the LCP Max, P365-380, and Bersa Thunder. But really, you can't go wrong with any of these guns.
What's your go-to .380 ACP? Let us know in the comments below. If you need some ammo, see our top .380 ACP picks. Or if you want more super small pocket options? Check out the Best Pocket Pistols.
Read the full article
here